Mariya Gabriel (right), Commissioner for Innovation, Research, Culture, Education and Youth, introduced top researchers during Research and Innovation Days, pointing out how research funded by the European Research Council (ERC) delivered breakthrough science advances before and during the pandemic.
Under de slogan "Let's shape the future together", the European Research and Innovation Days is the European Commission's annual flagship Research and Innovation event, bringing together policymakers, researchers, entrepreneurs and the public to debate and shape the future of research and innovation in Europe and beyond. This year, the event was taking place online and ICREA Research Professor, Group Leader and Deputy Director for Clinical Innovation and Translation at IBEC, Nuria Montserrat, was one of the voices invited to share her experiences during the session "COVID-19: lessons learnt, preparedness and resilience", together with other top scientists. After the introduction by Mariya Gabriel, Commissioner for Innovation, Research, Culture, Education and Youth, Professor Montserrat, together with Gabriella Conti -Associate Professor at University College London- and László Lovász-Research Professor at Rényi Institute of Mathematics- shared they experiences in performing breakthrough research on COVID-19 during the most difficult months of the pandemic. Philip Campbell, Editor-in-Chief Springer Nature, moderated the session.
Science during COVID-19 crisis and afterwards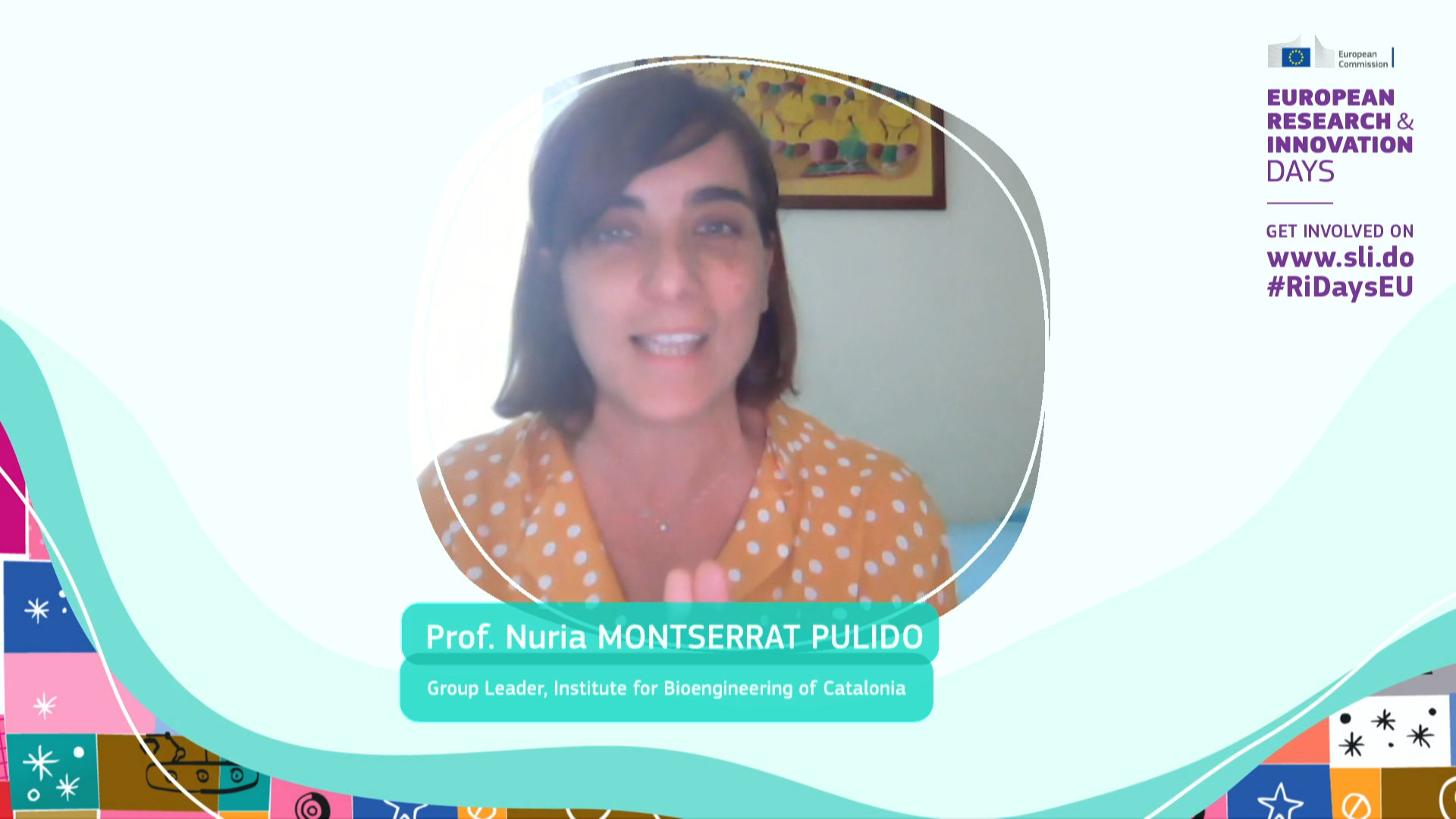 Science played a central role during the COVID-19 crisis, but what lessons can we draw from this to build a more robust science for policy ecosystem in Europe? What changes can be implemented? COVID-19 represented a 'stress test' for science in policymaking and highlighted the need for better connections among science advice practitioners and institutions across Europe and within Member States.  In this context, Professor Montserrat pointed out that "Thanks to the European funding, I was able to develop a technology that later served us to speed up the research on how SARS-CoV-2 infect cells and tissues". Montserrat added that "I had a lot of freedom and support when switching my research activities towards the study of fundamental questions on how this coronavirus infects kidney organoids to test therapeutic compounds to treat COVID-19 disease.
Researchers led by ICREA Research Professor Nuria Montserrat, together with international collaborators, achieved in 2020 a highlight against COVID-19 in the most challenging time of the pandemic. Montserrat and colleagues used organoids generated by bioengineering techniques to decipher how SARS-CoV-2 interacts and infects human kidney cells. Researchers also identified a drug capable of inhibiting the SARS-Co-V2 infection that was later assayed in COVID-19 patients.
More information about Nuria Montserrat can be found here.
More information about Research and Innovation Days can be found here.
The video to the full session is available here: