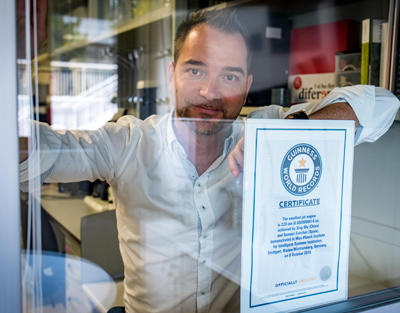 Samuel Sanchez has broken his own Guinness World Record for the smallest jet engine.
The ultimate authority in record-breaking achievements has recognized his and Xing Ma's nanotube, 220nm or 0.00022 millimeters in size, as the world's tiniest jet engine. Previously, Samuel and his collaborators from IFW Dresden held the record until this year, with a 600nm tube.
The tubular 'engine' is powered by an enzyme-triggered biocatalytic reaction using urea as fuel. The reaction creates an internal flow that extends out into the surrounding fluid through one of the cavities, causing a flux of fluid that results in thrust, propelling the nanotube along.