The start-up specializes in the development of biocompatible nanorobots capable of delivering drugs to difficult-to-treat tumors more efficiently and safely than current therapies. Nanobots Therapeutics is the third investment in the fifth edition of Banco Sabadell's BStartup Health program, which received applications from 127 start-ups.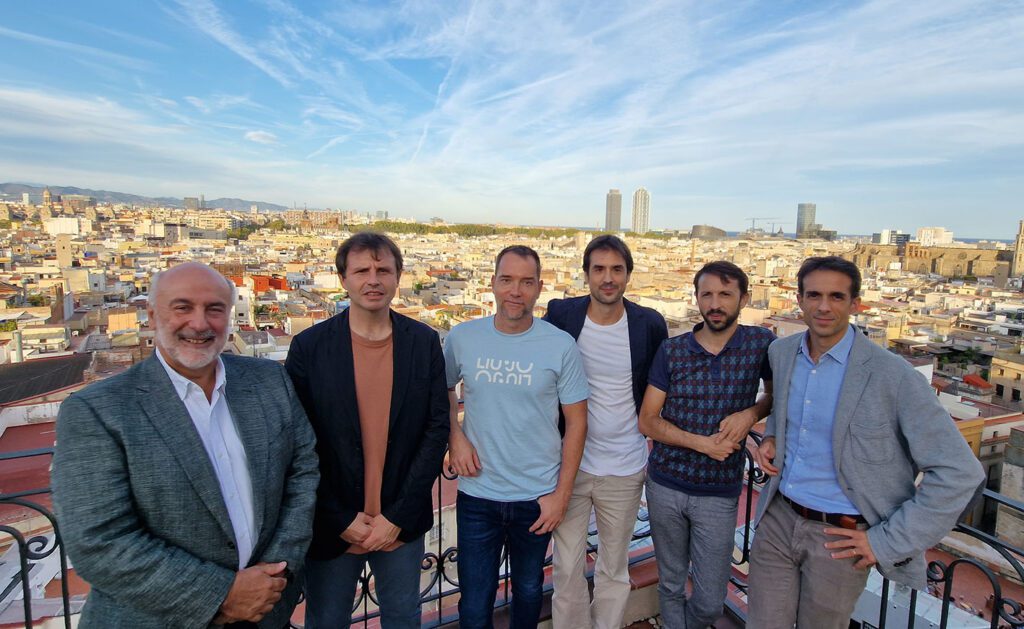 The pre-seed funding round of the start-up Nanobots Therapeutics is led by BStartup Health, Banco Sabadell's dedicated health start-up program. It also includes participation from Prous Institute for Biomedical Research and ESADE-BAN, in addition to public investment from the ACCIÓ StartUp Capital program (Generalitat de Catalunya).
The start-up will focus on developing and commercializing the MotionTx technological platform, which harnesses the potential of nanorobots to penetrate tissues and deliver drugs directly to cancer cells. This revolutionary technology is expected to significantly improve the effectiveness and safety of current and future medical treatments.
Nanobots will initially concentrate on non-muscle-invasive bladder cancer, one of the most recurrent and difficult-to-treat cancer types. In the future, the company envisions expanding the technological platform to other diseases with significant unmet medical needs.
Founded in January 2023 as a spin-off from the Institute of Bioengineering of Catalonia (IBEC) and ICREA, Nanobots builds upon pioneering research in nanorobotics conducted by the distinguished ICREA researcher Samuel Sánchez, who has received accolades such as the MIT TR35 Innovator Award, the Princess of Girona Award, and the Banco Sabadell Research Award, among others. The company's other co-founders, Marc Ramis and Gonzalo Fernández-Miranda from Chasing Science, along with Andrés G. Fernández, Daniel Oliver, and Isaac Cabezas, bring extensive experience in entrepreneurship, drug development, and start-up financing to the team.
"The time has come to harness what we've learned about the therapeutic uses of nanorobots. We are delighted to successfully conclude this initial investment round because it represents significant support for our vision and approach to its development. Furthermore, it demonstrates the confidence that investors have in our potential to revolutionize the field of medicine," said Dr. Sánchez, founder and Chief Scientific Officer of the company.
The funds raised in this funding round will enable the company to validate its platform technology, manage its patent portfolio, and initiate industrial-scale production.
Eduardo Currás, Deputy General Manager of Banco Sabadell, emphasized "the excellent and recognized biomedical team behind the Nanobots Therapeutics project and BStartup Health's commitment to enabling the science of outstanding and promising spin-offs like Nanobots to reach the market and society."
Nanobots is the third investment formalized from the fifth BStartup Health call, which received applications from 127 start-ups and spin-offs. In this program supporting health projects in the pre-seed and seed stages, investments are primarily directed toward validating technology, research, and business."
Nanobots Therapeutics is a preclinical-stage biomedical company dedicated to the development and commercialization of its technological platform called MotionTx. This innovative platform offers a new class of therapeutic entities with unique capabilities to cross biological barriers and deliver drugs to diseased cells. Founded in 2023, Nanobots emerged as a spin-off from IBEC and ICREA based on pioneering research conducted by Samuel Sánchez in the field of nanorobotics. The company aims to overcome traditional limitations in drug administration and significantly enhance treatment outcomes for patients.
About IBEC:
The Institute for Bioengineering of Catalonia (IBEC) is a CERCA center, twice recognized as a Severo Ochoa Center of Excellence, and holds the TECNIO label as a technology developer and business facilitator. IBEC is a member of the Barcelona Institute of Science and Technology (BIST) and conducts multidisciplinary research at the forefront of engineering and life sciences to generate knowledge, integrating fields such as nanomedicine, biophysics, biotechnology, tissue engineering, and information technology applications in the healthcare field. IBEC was founded in 2005 by the Government of Catalonia, the University of Barcelona (UB), and the Polytechnic University of Catalonia (UPC).
BStartup by Banco Sabadell is the pioneering financial service in Spanish banking for start-ups and scale-ups, offering specialized banking and investment capital. It provides banking services tailored to start-ups, including access to specialized start-up managers, specific financial products, and its venture capital circuit. Its capital investment is focused on early-stage digital and technology companies with high growth potential and innovative, scalable business models. Additionally, it can offer follow-up investment in start-ups from its portfolio through Sabadell Venture Capital. BStartup serves more than 4,500 start-ups among its clients and has invested in over 85 start-ups.