The award-winning work has been directed by Pere Roca-Cusachs, principal investigator at IBEC, Associate Professor at the UB's Faculty of Medicine and Health Sciences.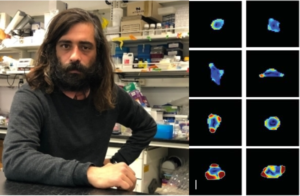 The doctoral thesis entitled Cell sensing of the extracellular environment: Roles of matrix rigidity, ligand density, and ligand distribution, revolves around a hypothesis on how cells are able to receive spatial and physical data at a nanometric scale. To date, the most accepted hypothesis defended that cells could use some type of pattern molecule in this process. In particular, the doctoral thesis states that the used mechanism to perceive the extracellular environment is regulated by the force detection that depend on ligand spatial distribution. This research line within the innovative discipline of mechanobiology can contribute to identify new tools to stop pathologies that are associated with the rigidity of tissues, such as cancer. 
Mechanobiology: a new perspective in biological processes 
Mechanobiology is an emerging field that has been gaining strength in recent decades. More and more scientists have begun to pay attention to the importance of physics in the development of organs and organisms, and have begun to define the mechanisms by which cells detect, respond, and generate forces. At IBEC, several research groups, including Professor Pere Roca-Cusachs, are pioneers in this field, which is also one of the four main areas of research at the institute. 
Cells can detect their environment and this skill is essential to maintain the function of tissues and detect changes (cell growth, tumor proliferation, etc.). Through focal adhesions, structures formed by transmembrane and also adaptive proteins, cells adapt and detect the physical properties of the extracellular matrix. 
Focal adhesions act as a kind of "cell shoe", providing traction and attachment to the surrounding tissues. Moreover, cells also change focal adhesions to adapt to different tissues and their features ,for instance, tumor growth

Roger Oria
About the prize
The Doctors' Senate Award was created in 1997 to honor the doctoral theses that are presented at the University of Barcelona representing the most relevant contributions to the field of human knowledge and science progress. Every year, this award intends to share and promote the work carried out by the young doctorands of the UB and therefore collaborate in the diffusion of the academic and social prestige of the doctoral degree, the highest academic level students can achieve within the university institution.